Sania Mirza bids goodbye to tennis with happy tears at place where she began her journey India's star tennis player Sania Mirza concluded her journey in the place where she had begun it. Sania played the final match of her career at Lal Bahadur Tennis Stadium in Hyderabad. In this stadium, she had indicated her arrival on the big stage by winning the title in the historic WTA single nearly two decades ago. She bid farewell with moist eyes.
By playing in exhibition matches featuring Rohan Bopanna, Yuvraj Singh, and her 'best friend' Bethanie Mettek Sands, Sania finally bid adieus to her illustrious career. The games were watched by union law minister Kiren Rijiju and former India cricket team captain Mohammed Azharuddin.
Having arrived at the venue, the 36-year-old star player was greeted by cheering fans that also included prominent personalities. The six-time Grand Slam winner, Sania got emotional while giving her farewell speech and said the greatest honour for her has been to play for the country.
At the exhibition, she played two mixed doubles exhibition matches and won both of them.
"I am so excited to play my last match in front of you all," she said, speaking ahead of the match.
Rijiju, who was formerly the union sports minister, Telangana minister K T Rama Rao, Azharuddin, and Yuvraj were among the guests present at the venue.
"I have come to Hyderabad for Sania Mirza's send-off, her farewell match. I am delighted to see so many people turning up for this. Sania Mirza is an inspiration not just for Indian tennis but for Indian sports too," said Rijiju.
"When I was the sports minister I used to be in touch with Sania. I wish her all the very best for her future endeavours."
Her family members and friends were also present at the venue. After the match, Sania was felicitated by Rama Rao and Telangana sports minister V Srinivas Goud.
"The greatest honour for me has been to play for my country for 20 years. It is every athlete's dream to represent their country at the highest level.
I was able to do that," Sania, who thanked everyone for supporting her in her journey, said.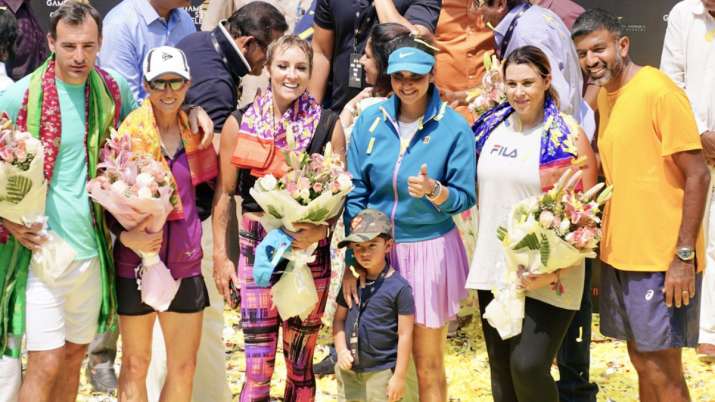 As fans cheered her, Sania turned emotional.
"These are very, very happy tears. I could not have asked for a better send-off," she said. She hoped that "many, many Sanias" would emerge in the country.
Azharuddin praised Sania for her contribution to tennis.
"I think today we are giving a great farewell to Sania.
What she has done for tennis for women in India and all over the world, I think, is an example. I wish her all the best," Azharuddin told reporters.
"I know people would want her to continue to play more. But every career has to end. I think she has taken the right decision," he said.
Latest Sports News