Going off to college can evoke a bit of anxiety for any student. But for international students, especially those whose main language is something other than English, the trepidation can be even greater.
That's why the English Language Center was formed at Rochester Institute of Technology in 1979. The center helps teach English to international students, from beginners to advanced levels. The classes are open to anyone interested in preparing to enroll in a university. More than 1,400 students from 60 countries have taken their courses and gone on to receive a degree from RIT.
"Learning to use a language at a university level is a lot different than using it to go shopping," said Stan Van Horn, the center's director. "Most of the students in our classes speak English very well. They are now becoming masterful in their use of English and need to perform at an academic level."
International students wanting to apply to college in the United States, including RIT, need to prove English language proficiency. If their results aren't high enough, English language courses may be needed before they could be accepted to a college.
Not every college has such courses for international students. At RIT, some of the students may be only taking the course from the English Language Center, others may be taking one or two other courses in addition to their English course, and other students could be accepted into a major or a graduate program.
The center, on the second floor in Monroe Hall, has a range of classes, for the beginning English speaker, intermediate, and advance English classes. Topics include casual speaking, academic speaking, academic writing and reading, and language analysis.
There are separate courses designed for undergraduate and graduate students to succeed in a college setting.
"If you come from a different educational culture, you may not know the norms of communication in the U.S., how the language is actually used in the classroom or social settings," Van Horn said. "We take writing skills for granted. When graduate students have to read a research paper, if they don't know what the format is, they could misinterpret the thesis or what the main point it is."
Van Horn said even the educational culture around the world varies.
"In the U.S., when a professor asks questions, they are often looking for discussion, students' opinions, not a right answer or a yes or no answer," he said. "It can be a challenge for students to go into a new culture with a new language, and with different ways of interpreting and interacting. In our classes, students can practice these."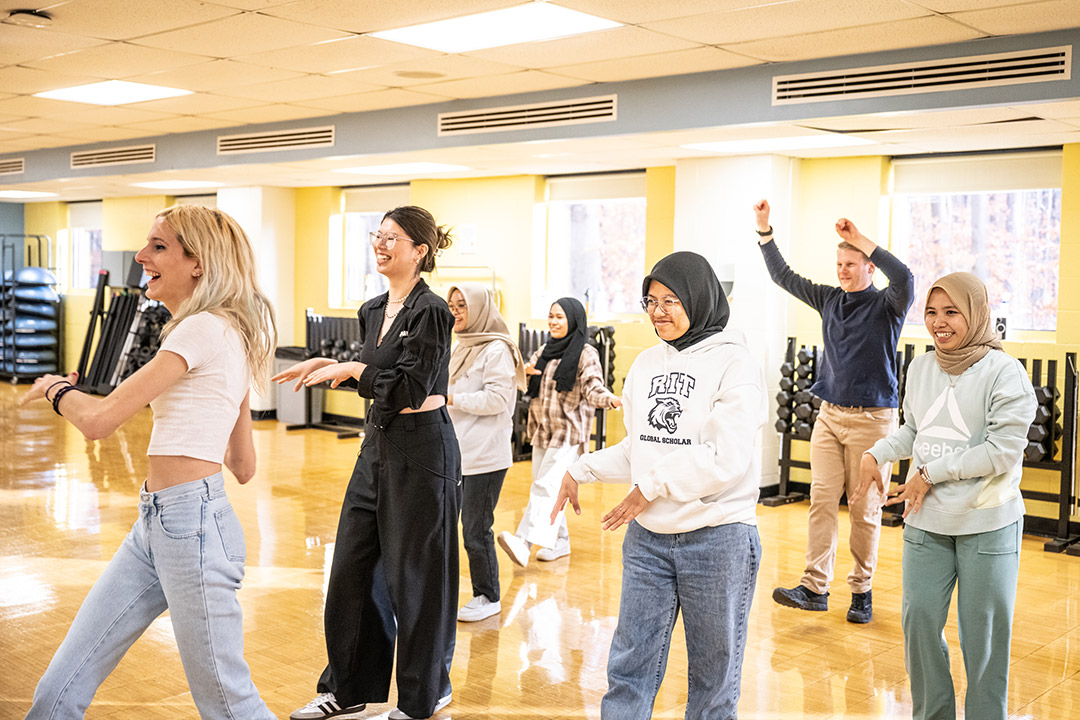 ‌
Traci Westcott/RIT
He said most students, wherever they are from, have to learn new ways of communicating in the college setting, such as giving and receiving critiques. "If you are doing this in a new culture and language, it's a complex shift."
Lynn Shen, from China, earned a bachelor's degree in accessory design from the Beijing Institute of Fashion Technology. Then she wanted to learn jewelry design at a university in the United States. She tried to learn English at home, but the lessons were too fast and there was too much to comprehend at once, she said.
Then she read about RIT's metals and jewelry design MFA program, and learned that RIT offered English classes for international students.
"At first, I felt awkward talking to people here, I wasn't confident that my English was good enough," she said. "My mom was really worried about my English, but the English Language Center has helped me a lot. And I feel happy."
She's one of about a dozen students this semester taking a class with Christopher Kausch II, specialist of applied linguistics at the center. He teaches vocabulary and how to ask a stranger questions, which will help boost their confidence using English to connect with others.
One example had his students go on a scavenger hunt, asking strangers questions. Another had them ask strangers what they were thankful for this Thanksgiving season. Shen found willing students in the Fireside and Commuter lounges.
On Halloween, the students learned superstitions and traditions, including the lore of black cats, the use of cauldrons, and what the term "Jack-O-Lantern" meant. Sometimes the students broke into small groups to discuss things, such as when they received a treat or had been tricked somehow.
Outside class, the center hosts dances, workshops or presentations on Thursdays. The students have also participated in Into the Roc trips to Rochester's Public Market and other places. Many also have visited Niagara Falls through excursions with RIT Global. A picnic and bowling trip is also in the works.
"We want them to feel comfortable speaking outside the English Language Center, if they want to talk with friends, ordering coffee from a barista, or even at the financial aid office and paying bills," Kausch said.
Students must keep a journal, or log, with at least two entries a week, demonstrating how they used English to connect with others.
Kausch said the program helps many international students ease into college life in the U.S. "Basically what we're doing here is a semester-long onboarding, building social skills to get acquainted in the college environment and comfortable around others," he said.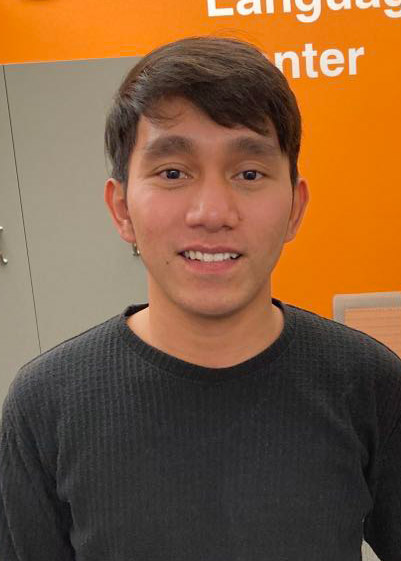 ‌
Rahmat, who has no last name, left his native Indonesia for the first time at the end of August, when he took a 33-hour trip to Rochester via Sydney; Los Angeles; Dallas; and Charlotte, N.C. He's taking general studies in RIT's College of Liberal Arts and eventually wants to become a college lecturer back home.
"At first, I had no idea which campus I wanted to apply to," Rahmat said. "All I wanted to do was to go to the U.S. I picked RIT because of the English proficiency class it offers."
He's also taking two classes in anthropology and economics, not related to his major. At first, he was disappointed because he wanted to take more academic classes. "However, after two weeks of joining the class, I believe I do really need the English class because it relates so much to my major in my home country."
As a result of the class, Rahmat said he now writes English better, understands more American slang, and is learning how to make new friends.
Van Horn is one of six in the department who teaches the classes. All of them have lived abroad for significant amounts of time. He sees the confidence, and camaraderie, the students have developed, finding commonalities within their diversity.
"The world is coming to RIT, and we're lucky we get to work with them all of the time, he said. "There are so many hot spots now, it's beautiful we have international students who travel around the world to study in other places. Learning in a new language also causes a great depth in cultural understanding, and it does a lot to bring these students together to promote cultural understanding."