Online gaming in the wee hours of the morning is not something you would normally associate with an elite athlete.
Key points:
Kyle Marwood was one of 85 riders around the world to contest the new eSport eliminator race event
Professional road cyclists were among those competing in the event
Esport is now used to help select riders for pro contracts
But for cyclist Kyle Marwood, it has given him the edge he needs to represent Australia against the best in the world without having to travel thousands of kilometres to line up for the Tour de France or the Giro d'Italia.
Marwood pulled on the green and gold lycra to race against other elite cyclists who pushed him to his physical limits — all from the comfort of his garage in north Queensland.
Eighty-five riders lined up for the international race last month on Zwift — a platform used by millions around the world for fitness and also a way to secure professional rider contracts.
The system uses stationary trainers linked via Bluetooth to a smart device, with the rider's efforts translated to an avatar.
"It's pretty cool and a bit weird, but I was just very happy to make the Australian team," Marwood said.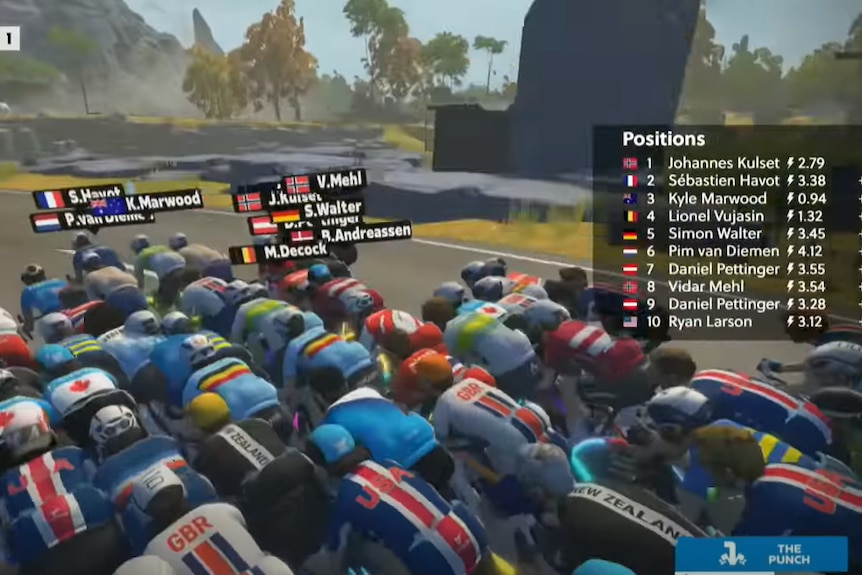 The three-race event was modelled on the streets and countryside of Glasgow, with elimination races aptly called the Punch, the Climb, and the Podium.
Marwood was one of the top 30 riders who made it to the second stage.
Mixing it with the best
Juggling a young family, business, and elite cycling has been a challenge, but eSports has allowed the father-of-three to challenge himself without having to leave home.
"I'm not young anymore and being to ride at that level without the massive costs or time away from the family is awesome," he said.
"It allows me to feed that addiction … Mackay is remote and being able to travel to Brisbane for racing is not an easy feat."
Marwood has raced both in Australia and overseas and said the virtual race events were pretty realistic.
"You've got to be able to hold your position [in the bunch] and be aware of what's going on with splits and attacks and know when to sprint," he said.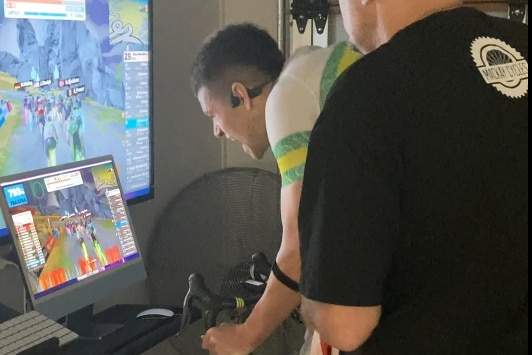 "You can see what other people are putting out [power-wise], but when you're in the zone and putting in a lot of effort you don't really take it in.
"For the last 40 seconds of race one, I reached over 1,000 watts, which is a personal record, just to hang on."
For context, a 50-inch LED TV uses about 60 watts per hour.
Marwood said there was a strict verification process in the lead-up to race day.
"The trainers we use are all calibrated and you have to do pre weigh-ins and a video weigh-in," he said.
"There is the ability for our trainers to be taken back for analytics if they've got any questions, so they do heavily analyse the data."
The road to pro
Far from being a fun fitness tool or a novelty for amateur riders, the eSport series has helped launch professional careers.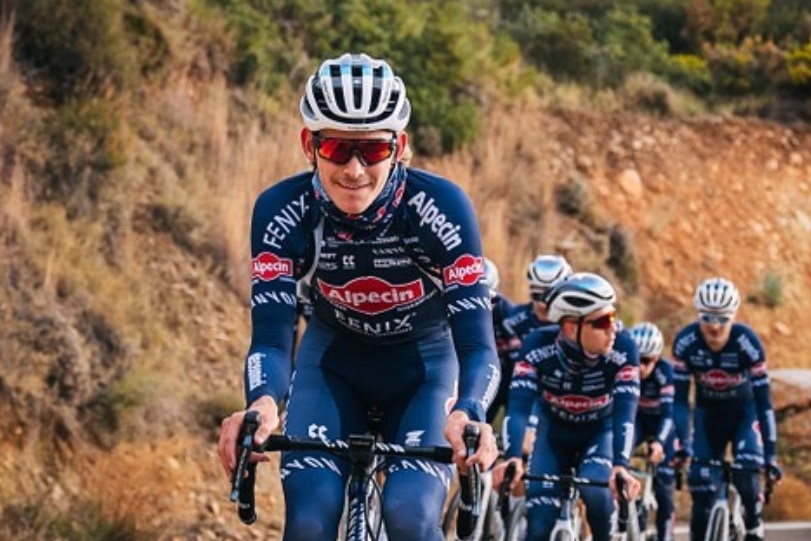 Fellow Mackay rider, Alex Bogna, took out the Zwift Academy in 2021 at 19 years of age, beating contenders from across the world for the pro contract.
Last year, Bogna raced with Belgian team Alpecin-Fenix and will be racing in Europe again this year.
Marwood said e-racing gave young riders in regional and remote areas a unique opportunity.
"It's a platform for young riders to get recognised and can help prepare them for a state or national level," he said.
"You can't hide from the numbers and the data is all there."