Daniil Medvedev has been peeved, to say the least, by the court conditions throughout his 2023 Indian Wells campaign. The fifth seed has had multiple on-court outbursts and agitated reactions to the slow court conditions at Indian Wells this year, getting into arguments with chair umpires. However, Medvedev seemed a lot more at peace during Saturday's semi-final against Tiafoe.
Medvedev fended off a spirited challenge from Tiafoe to win the match 7-5, 7-6(4), his 19th consecutive match win, and thus entered his fourth consecutive final on tour. While Medvedev pointed out that the court was still slow during the match, he felt the overall conditions were a lot faster and in tune with his preferences.
That was probably the reason why he was 'talking less' during Saturday's match, joked the world No. 6, suggesting that he is smart enough to know that he should not make a fuss about things the further he progresses in a tournament.
"For whatever reason, today felt super fast," Daniil Medvedev said in an interview with Tennis Channel. "Not the court, it is slow, but in general, the conditions. As soon as one of us was making a strong shot, it was really not easy to continue the point."
"Maybe that's why I was talking less or we're getting closer to the last matches and the further it goes, the less you have to talk," he added.
He added more humor to the occasion, saying that while he tends to speak out against court conditions while playing, he never misses an opportunity to confess his liking for Indian Wells as a tournament in general.
"I always use my opportunity to say how much I like Indian Wells when I'm not on the court. I absolutely love it here," Medvedev expressed.
Speaking about his challenges with the conditions over the course of the week, the former world No. 1 highlighted the inconsistency with the same.
"Everyday is different. (There's) wind sometimes, sometimes no wind and the ball is flying, sometimes it doesn't fly. You're like, why? You have to adapt everyday," the 27-year-old said on the same.
Medvedev takes on world No. 2 Carlos Alcaraz in the final and victory would mean that the Russian will become the first player since Andy Murray in 2016 to win titles in four consecutive weeks on the men's tour.
"He was definitely not the same player as he is right now" – Daniil Medvedev reflects on rise in Carlos Alcaraz's level since Wimbledon clash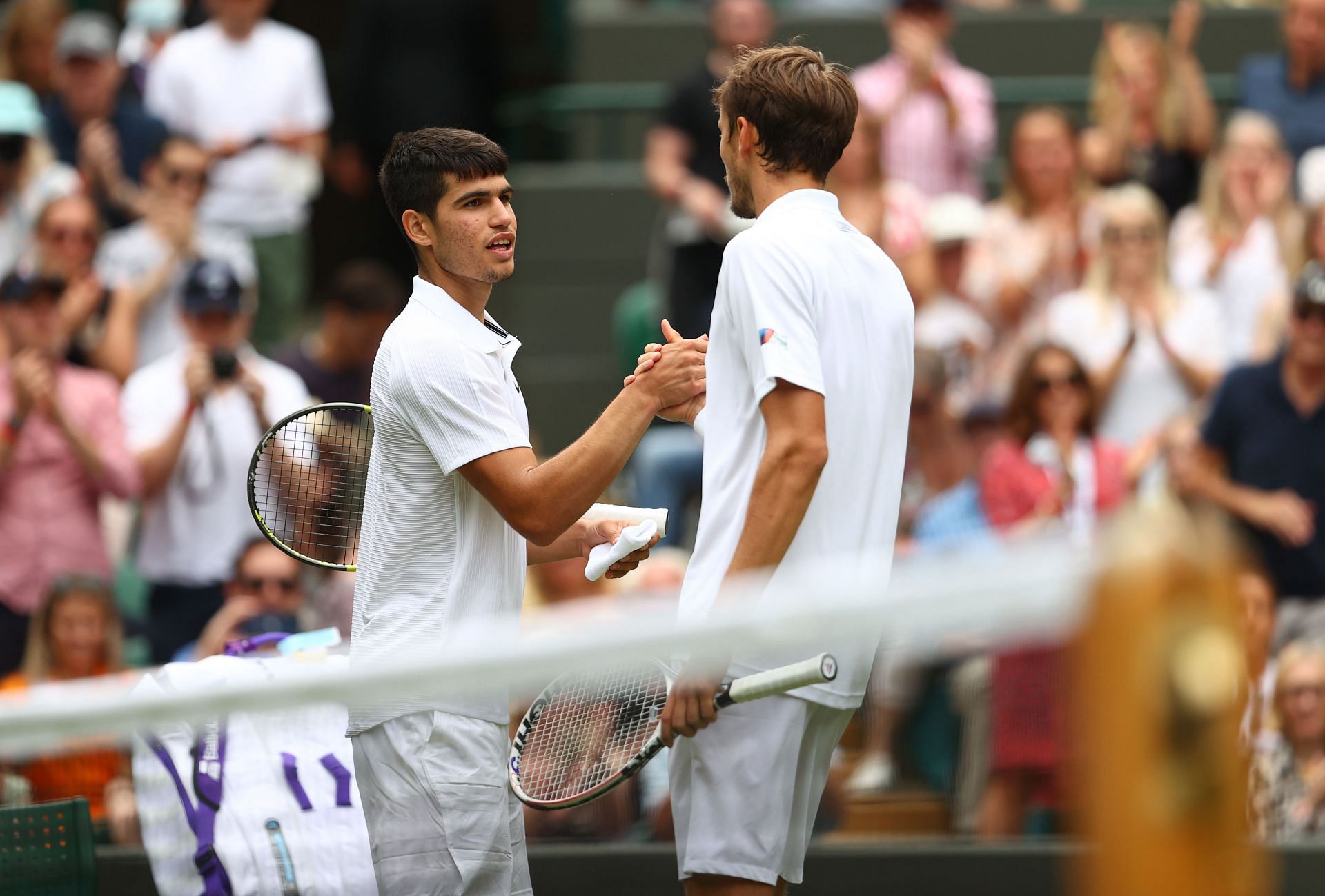 Looking ahead to the Indian Wells final against top seed Carlos Alcaraz, Daniil Medvedev felt that despite the fact that he has the experience of facing Alcaraz in the past, Sunday's match will be like a first match against the Spaniard for him. The 2021 US Open champion highlighted the improvement in Alcaraz's level of tennis since their 2021 Wimbledon second-round clash, which Medvedev won comfortably in straight sets.
"He was definitely not the same player as he is right now. So in a way, it's going to be like a first match between us in terms of how we gonna go tactically or physically or tennis-wise," Daniil Medvedev said on facing Alcaraz, in a press conference after the semi-final.
Both players have a lot at stake in Sunday's final at Indian Wells. For Medvedev, it is a chance to win his fourth consecutive tournament, maintain his unbeaten streak, win Indian Wells for the first time, and keep his Sunshine Double hopes alive at Miami.
Meanwhile, Alcaraz will topple Novak Djokovic and regain the world No. 1 ranking if he wins the final.
Edited by Aayush Majumdar