This is the extended version of a piece that appears in the Summer 2022 issue of Gonzaga Magazine, in a three-part feature on journalism grads. See also:
Gonzaga journalism graduates are used to telling other people's stories, but we asked some of them to tell us about themselves. And they did.
We reached back as far as 1990 – mindful that we'd miss some outstanding journalism majors from earlier classes – and found several still toiling in the news media. Not surprisingly, many have transitioned to new arenas. Yet they all willingly looked back on their undergraduate roots in Gonzaga's core curriculum, their choice of journalism, and especially their hours and late nights at The Gonzaga Bulletin.
About the Interviewer
Tom Miller, shown here with Robin Moody, taught journalism at Gonzaga from 1985 to 2017 and was adviser to the student newspaper most of those years. He was chair of the former Communication Arts department for 10 years, and a part-time copy editor at The Spokesman-Review, 1986-2020. Gonzaga pulled him out of his retirement reverie to be the interim news service manager, a role he has graciously filled since August 2021. Tom's knowledge and institutional memory are matched only by his pride in the program's former students.
In the Spotlight
In a paragraph or two, or using a bulleted list, please offer a post-GU bio and feel free to include any honors/awards.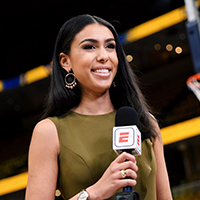 Kendra Andrews (2019)
"After graduating, I spent a year and a half covering the Denver Nuggets and NBA for The Athletic. In January 2021, I moved back home to the Bay Area to cover the Golden State Warriors for NBC Sports Bay Area, and now ESPN. In this role I write stories about the day-to-day operations of the Warriors, appear on 'SportsCenter,' 'NBA Today' and other ESPN programs."
---
Mark Bieter (1990)
Worked for Union of Catholic Asian News (ucanews.com) in Hong Kong and Bangkok
Served as assistant press secretary for a member of U.S. Congress
Published "An Enduring Legacy: The Story of Basques in Idaho"
Attended Duke Law School as H. Heywood Robbins scholar
Worked as a litigator for several Washington, D.C., law firms
---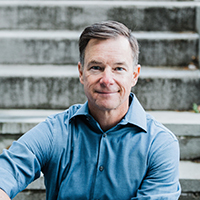 Mark Briggs (1991)
Management consultant who helps media companies and large-market TV news stations modernize their operations, culture. He is the author of three books on journalism that have been widely used in colleges and journalism schools around the country for the past 15 years. He received a master's degree in journalism from the University of North Carolina, Chapel Hill, where he has served as an adjunct professor since 2015.
His latest book, "The Butterfly Impact: Resilience, Resets and Ripples," was published in October 2021 and offers practical guidance on finding work-life balance, something most people working in news and journalism have struggled with at some point.
---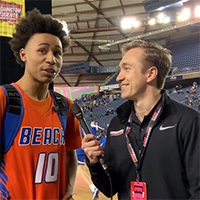 Andy Buhler (2017)
Associated Press internship in Atlanta, serving as the sports intern in AP's global news internship program (summer 2017)
Sports reporter at The Columbian, covering high school and community sports in Clark County, Wash. (2017-19)
Sports reporter at SBLive Sports / Scorebook Live, covering high school sports across the state of Washington and beyond as the company expands nationally. (March 2019-present)
---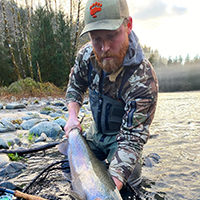 Sam Lungren (2011)
"I graduated with a bachelor's in Journalism and a minor in Spanish, as well as winning the Michael Gurian Nonfiction Writing Award. After another summer commercial salmon fishing in Alaska, I entered the University of Montana's Master's of Environmental Journalism and Natural Resource Science program in Missoula. I interned at the Rocky Mountain Elk Foundation's Bugle magazine and defended a thesis about the effects of hatcheries on struggling native salmon and steelhead populations. That soon led to a job as the editor of Backcountry Journal, publication of the ascendant conservation group Backcountry Hunters & Anglers. After five years and 20 quarterly issues, I accepted an editorial position at a new outdoors media outfit called MeatEater.
Building off our founder's success in book publishing and hosting a hunting, fishing and cooking show on Netflix, we've built an audience in the millions and grown the company to over 100 employees following three major acquisitions.
I'm currently the supervising editor on the web publishing team, overseeing publication of 20 or more articles and several videos every week."
---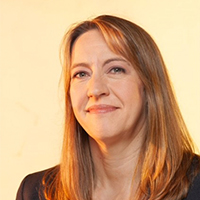 Robin Moody (1999)
Spent the first decade of her career as print news reporter and editor at newspapers around the Northwest, including six years as health care, sports apparel and agriculture reporter at the Portland Business Journal and as editor of the community weekly The Bremerton Patriot in Bremerton, Wash.
Spent the next near-decade as the state and federal health care policy lead for the association representing Oregon's 64 acute-care hospitals and subsequently for the national health care company now known as Caravan Health.
She is executive director of Dental3, a nonprofit serving scores of schools in the Portland area.
---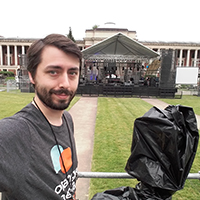 Steven Sandberg (2009)
After graduating, Steven was a reporter/anchor for KDRV Newswatch 12 in Medford, Ore. At KDRV Steven also served as a producer, sports anchor, play-by-play announcer and investigative reporter.
In 2014, Steven joined Orange Media Network, the student media department at Oregon State University. He is now the assistant director of student media, where he oversees the student TV and radio stations, newspaper and three magazines. In 2021, Steven won the Distinguished Multimedia Adviser Award from the College Media Association.
---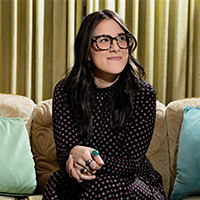 Leah Sottile (2003)
She is a freelance journalist whose features, profiles, investigations and essays have been featured by The Washington Post, The New York Times Magazine, Playboy, Rolling Stone, The Atlantic and High Country News, among others. She has been nominated twice for the National Magazine Award for her podcast and story series, "Bundyville," which chronicled the rise of far-right extremism in American politics.
She is also the host of the podcast "Two Minutes Past Nine" on BBC Radio 4. In 2019, she served as the T. Anthony Pollner Distinguished Professor at the University of Montana's School of Journalism.
Her first book, "When the Moon Turns to Blood," was published in June. It examines the culture of end times paranoia and a trail of mysterious deaths surrounding former beauty queen Lori Vallow and her husband, gravedigger turned doomsday novelist Chad Daybell.
---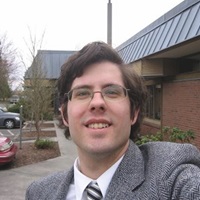 Michael Whitney (2006)
He is the editor of the Snohomish County Tribune, a weekly 12,000-circulation newspaper serving Snohomish, Monroe and Everett, north of Seattle. He joined the Tribune as a staff reporter in 2008 and became the paper's editor in 2014. At this small paper he reports stories, lays out news pages, copyedits, assigns stories and guides interns.
He is a board member of the Society of Professional Journalists (SPJ) Western Washington Pro chapter and has received these accolades:
Two first-place awards in the 2021 Washington Newspaper Publishers Association annual statewide contest. One was for short feature reporting for an April 2020 cover story highlighting Zion Lutheran Church's large renovation. The other was for business feature reporting for an April 2020 story about Piccadilly Circus Pub on Snohomish's First Street.
One second-place award for breaking news in the 2020 Washington Newspaper Publishers Association statewide contest for covering a 1 a.m. fire at the former Seattle-Snohomish Mill, and having a 450-word story published sooner than many larger news organizations that morning.
One third-place award in political reporting in the 2014 Society of Professional Journalists Northwest Excellence in Journalism Awards for the five-state SPJ Region 10 contest. The story dug into why a contrarian school board member deliberately began skipping meetings because she felt ostracized.
"Doing some math, I have written at least 2,700 stories so far for the Tribune, from city government to food banks to regional economic development to everyday happenings."
---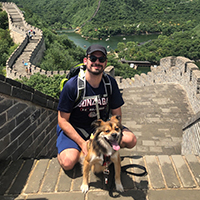 Peter Zysk (2009)
Graduated with majors in Journalism and International Studies. Spent one year studying abroad in Beijing during his Junior year.
Completed a master's degree in International Affairs, specializing in East Asian comparative politics, from American University's School of International Service in 2012.
Previously held positions at the Woodrow Wilson International Center for Scholars, a nonpartisan think tank, and APCO Worldwide, a strategic communications consultancy, both in Washington, D.C.
Joined Brunswick Group's Washington, D.C., office in 2012 as a founding member of its opinion research and analytics division where he helped to establish and grow this team. His team at Brunswick specializes in using research and data to inform corporate communications strategy and business decision-making. About Brunswick: Brunswick is a critical issues firm. We advise the world's leading companies on how to navigate the critical issues they face and engage with their critical stakeholders. Our purpose is to help our clients play their role in the world more successfully. We help the leaders of the world's great value-creating organizations operate successfully across the increasingly complex and fast-changing arenas of finance, politics and society at large.
Transferred to Brunswick's Beijing office in 2016 to establish and grow the firm's opinion research and analytics capabilities across Asia. Now a partner in Brunswick, he is currently a director and head of Insight Asia, overseeing teams in Beijing, Shanghai, Hong Kong and Singapore. He advises clients on a range of issues, including geopolitical risk, international expansion strategy, social impact and ESG commitments, corporate messaging and storytelling, and crisis response.
The Gonzaga Bulletin Experience
Most journalism grads say working on the Bulletin was a key part of their experience. Was that true for you? If so, why/how?
Andrews: Working for The Bulletin was absolutely a key part of my experience as a journalism major. Unlike many other majors, journalism is something best learned by doing it. All of the studying in the world will not prepare you for what is to come in your career.
The Bulletin offered me that real-world experience. Covering the Gonzaga men's basketball team as a staff writer and sports editor taught me how to find different storylines within the same organization, how to cultivate sources and understand the daily grind of a beat.
Serving as editor-in-chief my senior year allowed me to think about journalism in a bigger picture sense, as well as how to be a good leader and manager. Most importantly, the Bulletin acted as my family during my time at GU, giving me lifelong friends.
Briggs: Absolutely. I learned the basics of journalism and news, of course, but the lessons on teamwork and collaboration on those late nights on the fourth floor of the Ad Building were the most valuable. The experience of working with people who are just learning the job themselves – while you are, too! – to produce the best newspaper possible under deadline pressure had to help anyone who worked for the Bulletin, whether they pursued a career in news and journalism or not.
Looking back, the added social stress of wanting to finish up the paper on Thursday evening so we could join our friends at Jack & Dan's was a precursor to the challenges of work-life balance, even if later in life the goal was to get to your kid's soccer game.
Bieter: Working on the Bulletin was the best part of my journalism education at Gonzaga and great exposure to what the real world might be like. For a semester I was editor of the opinion page and I managed to get under the skin of practically everyone related to the university at some point. It was a good lesson in developing thick skin.
Buhler: Three weeks into my freshman year, an older alum of my high school, Wyatt Fay, shepherded me into The Bulletin office for a meeting. I left with my first story assignment. Over the next four years, I gained a direction, purpose and a home. Ultimately, the Bulletin gave me the first sniff at what has now become a career I once considered a childhood dream.
As I rose through the ranks from reporter to section editor to managing editor and editor-in-chief, I'd often joke with roommates that the student newsroom was becoming my home — both literally and figuratively. The Bulletin took me to Madison Square Garden, Seattle, Salt Lake City and, ultimately, the national championship in Glendale, Arizona, as we documented one magical Zag basketball run after another. None of that would have happened without leadership of the staff (Joanne Shiosaki and Kayla Cartelli), the faculty (Professors Miller, Kafentzis, Simmons and English) and the motivated, driven and talented student journalists who served as mentors, co-workers and friends to this day.
Lungren: My time as managing editor of The Gonzaga Bulletin provided me an invaluable head start on the business of editing and publishing. It took proofreading and reporting from theory in the classroom to the real world. I'm still doing functionally the same job a decade later, and I have always felt better prepared for it than most of my colleagues because of my intensive education in the journalism school building and The Bulletin office.
Moody: My years working at the Bulletin were an important introduction to real-world journalism. We broke important and controversial stories. It helped build my courage and confidence to pursue bigger stories later in my career.
It helped me understand that people in power often use media interviews to manage reputational risk and are not always honest – so be skeptical!
Working at the Bulletin was undoubtedly the most influential and best part of my university experience and I remain proud of having been the editor and managing editor there.

Sandberg: Working on The Gonzaga Bulletin and GUTV helped me become the person I am today, and were the most important parts of my time at Gonzaga. I learned the importance of journalism, its impact on readers, and how it makes a difference in the world. From countless interviews on campus, late nights putting the Bulletin together, digging up information and seeing the work on the page, I learned how every story has the chance to make change. No matter the story, it makes a difference in someone's life, and is a catalyst for change.
Today, I carry the lessons I learned at the Bulletin and GUTV into my role advising student media at Oregon State University (and occasionally stealing catchphrases from Tom Miller and Dan Garrity along the way).
Sottile: Absolutely. The Bulletin was such a haven for me as a student – a place where I could learn what journalism was, and what it wasn't, where I could find my voice and get used to being published each week. I still remember seeing the stacks of papers every Friday on my way to class and feeling a sense of pride that I had something to do with keeping the campus informed.
It also showed me very early how journalists come up against adversity.
One of my most distinct memories was, as editor, fighting doggedly in the opinion pages with a very conservative student on campus. We couldn't have agreed with each other less. More than a decade later, he got in touch and told me how much he learned from me, and I consider him a friend now.
Whitney: Writing for The Bulletin gave me a huge outlet to pursue journalism, while teaching me practical skills about gathering story material and being quick-thinking with questions.
For example: Do learn how to seek court records. Do be fearless about asking anybody about anything. Do NOT follow firefighter medics into a private dorm to find out if this a breaking news situation. All of these were lessons.
Gonzaga generally gave student reporters in my era generous freedom to interview almost anyone at the university.
Prof. Susan English's Journalism Ethics course gave some of the most important guidance for making decisions while pursuing and publishing news. The SPJ Code of Ethics reiterates many of these grounding points. For example: Reporting news does not give license to be arrogant for the sake of news.
Zysk: Beyond the Bulletin providing my main source of income during college, I have a lot of great memories of those late nights working with my fellow editors to get each edition ready for publication. It was a fun way to practice what we were learning in the classroom.
Time as a Zag
Please offer a short reflection or two about any aspect of your time at GU.
Andrews: I am very grateful for my time at Gonzaga. I would lie if I said it was always easy, but whose college experience is? Gonzaga – and more specifically my time in the journalism department and the school paper – helped me find my voice as a writer and person. The opportunities the publication gave me helped me become more comfortable in my skin, and gave me certain courage to go after what I wanted.
Whether it was applying for an internship at The Washington Post (editor's note: successfully) or pitching my ideas for editor-in-chief in front of the Publications Board, Gonzaga gave me the skills to be a go-getter. The professors I had lifted me up and made sure I had the confidence I needed as I worked my way into a difficult and competitive industry. And for that, Gonzaga will always have a piece of my heart.
Bieter: My time at Gonzaga was magical. I still have so many friends from time there, and we can talk as if no time has gone by. My life has been much better because of my time at GU.
Briggs: I had the opportunity to return to campus recently to speak to journalism classes and, walking through campus, I was reminded how great it was to feel that community of support.
It's just this intangible strength and assurance that comes from knowing your Zag family has your back, even if you don't know exactly where you are going with life. I was surprised how that feeling came back to me, just by walking through campus 30 years later.
Buhler: A lot of the way I saw the world was molded by my time at The Bulletin. As purveyors of the campus paper, we considered it a duty to have our thumb on the pulse: what's happening on campus, the goings-on in the outside world as told through a campus lens, and the many stories of the faces that make up Gonzaga — students, staff and faculty.
It's times where we put our skills to practice, like when a production staff geared to produce a weekly paper decided to churn out one special section after another during the Zags' first run to the national championship game in 2017, including a newspaper produced on deadline — made up entirely of a team of boots-on-the-ground storytelling in Arizona — the night of the fateful loss to North Carolina.
And it's times that showed us what to aspire to, like when I went with two older editors — Caroline Rourke and Christian Vosler — to see the movie "Spotlight," and we left with a jolt of journalism energy that set us on our respective career paths.
They say the best way to find your footing in journalism is to do real journalism – whether at a college paper or in the professional world. I and many of my classmates in the Journalism program and on the Bulletin staff took that to heart.
There are many stories behind the hundreds of Bulletin bylines and print editions during my four years, from embarrassing learn-as-you go missteps, moments of real find-your-footing pride and, above all, countless formative experiences as a journalist – and as a young man.
Sottile: Gonzaga was a formative place for a young journalist like me, who might have gotten lost at a larger state school program. My journalism classes were very small, but I was able to get the individualized attention I needed to learn the basics of making journalism. I read journalism in those classes that formed the writer I am today.
As a senior, I helmed the Bulletin as editor and even started my own newspaper — a street paper that told the stories of Spokane's unhoused community. Gonzaga gave me a place to experiment and play, and I seized that opportunity.
Whitney: Loved Spokane. Gained some good friends.
Zysk: When I enrolled at Gonzaga I did not understand, nor appreciate, what "educating the whole person" really meant. As a graduate, that philosophy continues to shape who I am in a meaningful way. As a non-religious person, I remember the trepidation I felt walking into my first religion class. "Is the professor going to be pushing his beliefs on me?" Once we got into the coursework, I thought it was fun and interesting to critically look at the Bible as we would with any other academic source material.
Gonzaga provided me with an environment, inside and outside the classroom, that accelerated the development of my critical thinking, sense of responsibility for self and others, curiosity, and ethical self-reflection.
The emotional rollercoaster of the 2005-2006 men's basketball season, my freshman year. Starting off with the highest preseason ranking in team history. No. 7. The epic triple-overtime win over Michigan State in the Maui Invitational. Adam Morrison's individual scoring leader battle with JJ Redick. The tragic loss to UCLA in the Sweet Sixteen. That was a special season and I remember thinking to myself, "Will the Zags ever be this good again in the future?" Watching games over the past few seasons has been a lot better for my blood pressure.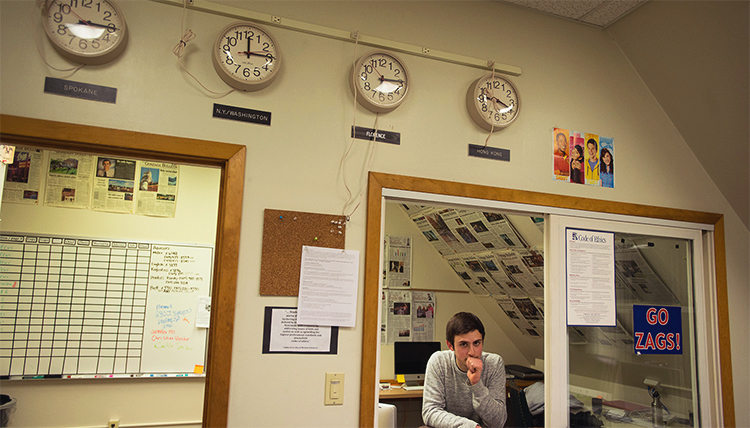 That Journalism Background
We know that not all of you work in journalism. If that describes you, in what way(s) – if any – did it help to prepare you for what you're doing now?
Bieter: Studying journalism at Gonzaga was one of the best writing educations I could have ever had. When it came to writing in the legal profession, I could hold my own against some Ivy League lawyers over my career.
Briggs: I spent 25 years in journalism, starting out at the smallest weekly newspapers and working my way up to the NBC affiliate in Seattle where I was director of digital media and innovation.
Now I work as a management consultant helping TV stations in places like New York, Chicago and Los Angeles try to be innovative, but my job is 90 percent about people, communication, collaboration and managing change. All those "soft skills" that I learned at the Bulletin make or break any organization in this fast-paced, disruptive era.
Moody: It instilled lifelong writing skills and helped me to understand the power dynamics that drive policy and business decisions. It built great critical thinking skills.
Zysk: A big part of my job consists of interviewing experts – policymakers, business leaders, academics – and reporting to my client on what I heard. My analysis needs to be truthful, accurate and independent, and these findings need to be communicated in a manner that is clear, concise, specific and simple. These are skills that I learned during my journalism coursework and practiced as a writer and editor for The Gonzaga Bulletin. Those experiences built the foundation for what I do professionally today.
Key Experiences
In your career(s), has there been a defining moment/experience for you? For those working in journalism: a particular story, interview, etc.?
Andrews: This summer, I was able to experience something I had never done in my journalism career. I went to Monterrey, Mexico, for five days with Juan Toscano-Anderson, a member of the Golden State Warriors. I went to film a short documentary of Toscano, from which I also wrote stories. Not only had I never traveled for a story, but I had never conducted a 45-minute interview, been part of a TV documentary or done such a wide-encompassing story.
The story covered Toscano's biracial background, his twisty-turny journey to the NBA, and the legacy he wasn't to leave in Mexico. If that experience wasn't enough, hearing positive feedback from Toscano, his mother and other family members was the most flattering comment I had ever received. It reminded me how much I love storytelling and the impact our work has on viewers and readers.
Briggs: Not really. As a manager for most of my career, I tried to help the people actually doing the work with ideas, technology and any other form of support needed. I did spend 10 days covering the Seahawks' first Super Bowl, though, and that was pretty cool. Except that year the big game was in Detroit!
Buhler: I've been really lucky: I've covered an NCAA National Championship, a U.S. Open golf major, countless MLS games, high-major college football and for the last four years, lots of high school sports games. Through it all, there hasn't been a defining moment or experience – yet.
I'll never forget being in the locker room after the Zags' bitter national title loss. Or talking to WNBA star Angel McCoughtry in her then-newly opened ice cream shop in downtown Atlanta. And there are too many amazing prep athletes who have opened up their lives – their obstacles, achievements – on the belief that I'll convey their story effectively and meaningfully. To me, that's the ultimate pride of this profession.
Moody: 
My proudest journalistic moments included breaking stories about maleficence in the elder-care industry at a company that ultimately became Oregon's largest bankruptcy in history – Sunwest Management – with fraud, negligence and investor fraud to boot.
I also got to interview Nike founder Phil Knight.
Sottile: My entire career has been a series of moments when I had to stop and say to myself, "I can't believe people pay me to do this." I have interviewed people who have tried to blow up buildings and people who have been called the most dangerous terrorists in America. I have been physically assaulted while reporting at political rallies, and have been tear-gassed and bombarded by police munitions more times than I can count. I have reconstructed police shootings and interviewed so many mothers, fathers and family members who have lost their loved ones in tragic ways.
But I have also ridden in vans with bands on tour, embedded myself with a wrestling group, and profiled Elvis impersonators. The most memorable story I have written was about a woman who solved the mystery of a ship that wrecked on the Oregon coast in the year 1700.
Journalism has allowed me to see life from the front seat, and my hope is to tell the unflinching truth until my very last day.
Whitney: It's superficial to boast of "talking with famous people": an astronaut, state legislators, Tuskegee Airmen from World War II, and so forth. The more memorable stories are the people you actually sit down with, and the breaking disasters you go see.
Larry Schwitters, the nation's preeminent Vaux's swifts (bird) expert, is fascinating to interview. Apartment building fires are sad. Reporting obituaries for people you personally knew, such as when our staff reporter Angela Cooper-McCorkle died, compels you to do your very best. Last but not least: I've been escorted out of a public memorial service because "They didn't want press there." Somebody should know: The press has a right to see what the public is invited to see.
Zysk: I get to do a lot of research on U.S.-China sentiment. I've been able to sit behind a two-way mirror and watch many focus group discussions where a wide variety of Chinese and Americans talk about how they see the other country. There have been two points that always strike me about these conversations. First, there are fundamental disagreements stemming from different histories, cultures and political systems. Second, there is so much shared in what we want for our families and countries – safety, health and a comfortable standard of living. We are both nothing like each other and exactly the same.
We tend to hear a lot more about the first of these than the second, and that scares me. When I do briefings on this research for CEOs, diplomats, government officials and academics, I always try my best to tell this well-rounded story in the hope they make the best decisions that create shared value for both sides.
I manage a multinational team of professionals composed of people from China, Singapore, the UK and Australia. I constantly must remind myself that there is much about American social and professional culture that does not translate abroad. Having a direct style of communication appeals to some people and can offend others. Using a baseball analogy to explain an idea will be met with blank expressions. It is rewarding, and a lot of fun, building connections and finding the best way to move such a diverse team toward a common goal. I've learned a lot about empathy and patience as a result of this experience.
Contact
Tom would love to hear from other journalism grads, too.