In the aftermath of Australia's triumph over India in the ICC Cricket World Cup 2023 final, a fabricated quote attributed to former Australian captain Ricky Ponting is causing a stir. The quote falsely accuses Ponting of labelling the Board of Control for Cricket in India (BCCI) a "cricket mafia" following Australia's sixth ODI World Cup victory against the hosts in Ahmedabad, Gujarat. The misleading statement gained traction on social media after India's defeat, with the X handle ASG (@ahadfoooty) sharing a photo of Ponting along with the spurious quote.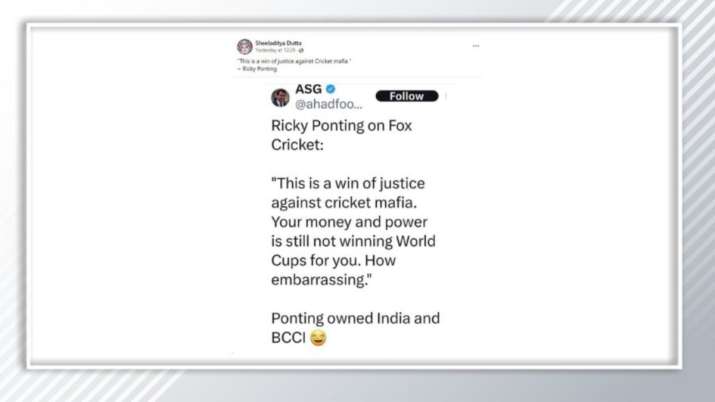 The India TV Fact Check team promptly investigated the matter and confirmed the viral quote to be fake. There is no evidence of Ricky Ponting making such a statement against the BCCI. Their scrutiny of recent statements from Ponting revealed no instance of him uttering the words, "This is a win of justice against the cricket mafia." Furthermore, a review of Fox Cricket's latest report, titled "Ricky Ponting, Michael Vaughan, and Nasser Hussain call out India for tactical pitch 'backfire'," disclosed that Ponting criticised the pitch prepared in Ahmedabad but made no mention of the contentious quote circulating online.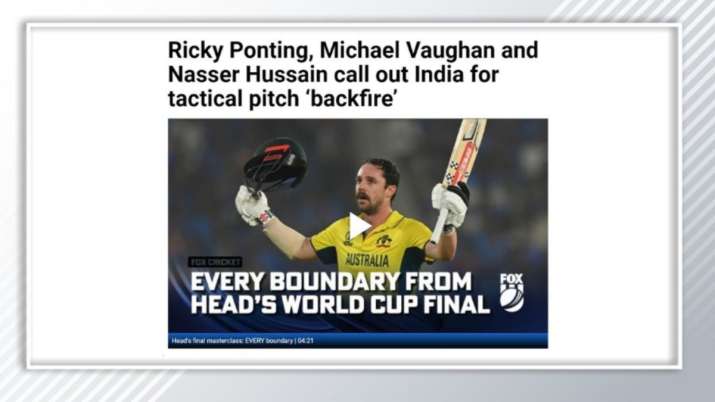 Australia secured their sixth ODI World Cup title by defeating India with six wickets and 42 balls to spare. The Indian team struggled, posting a modest 240 runs in 50 overs, and commentators speculated on the pitch's role, suggesting it favoured spinners. However, Ponting's critique focused on the tactical pitch backfiring, not on unfounded accusations against the BCCI.
In the face of the misinformation, Ponting has denied making the inflammatory statement. The fabricated quote misrepresents his commentary, overshadowing his legitimate criticism of the pitch conditions. This incident underscores the challenges of navigating misinformation in the digital age, emphasising the importance of fact-checking and responsible social media sharing to ensure accurate dissemination of information. As cricket enthusiasts grapple with the outcome of the World Cup final, it is essential to separate genuine critique from false narratives circulating online.
Also read | Fact Check: Did Australian cricketer Maxwell touch Sachin Tendulkar's feet? | Here's truth behind viral pic