Travis Kelce's mom, Donna Kelce, apparently feels like she fumbled an answer about Taylor Swift.
In his new interview with WSJ. Magazine, Travis spoke about his mother's appearance on "Today" in October, when she spoke briefly about Swift.
According to the outlet, Donna felt she came off less than excited about interacting with the "Cruel Summer" singer. 
During the "Today" interview, Donna was asked if their time in the box at the Chiefs' game was the first time they had met.
TAYLOR SWIFT'S BOYFRIEND TRAVIS KELCE FINALLY REVEALS HOW THEY MET: 'SHE'LL PROBABLY HATE ME FOR SAYING THIS'
"Yeah, it's, you know, it's fairly new, so I don't like to talk about it. It's just one of those things where obviously everybody saw me. I was in the boxes with her and it's just, another thing that's amped up my life," Donna replied.
When asked directly what Swift was like, she responded, "It was okay."
She continued, saying she did not want to elaborate too much on her younger son's life.
"It's his personal life. I'll talk about my life and when the kids were little when I was with them. They're men now. And they've got their own lives and there isn't a man alive that's going to talk to their mom about their personal life, it's not going to happen," she said at the time.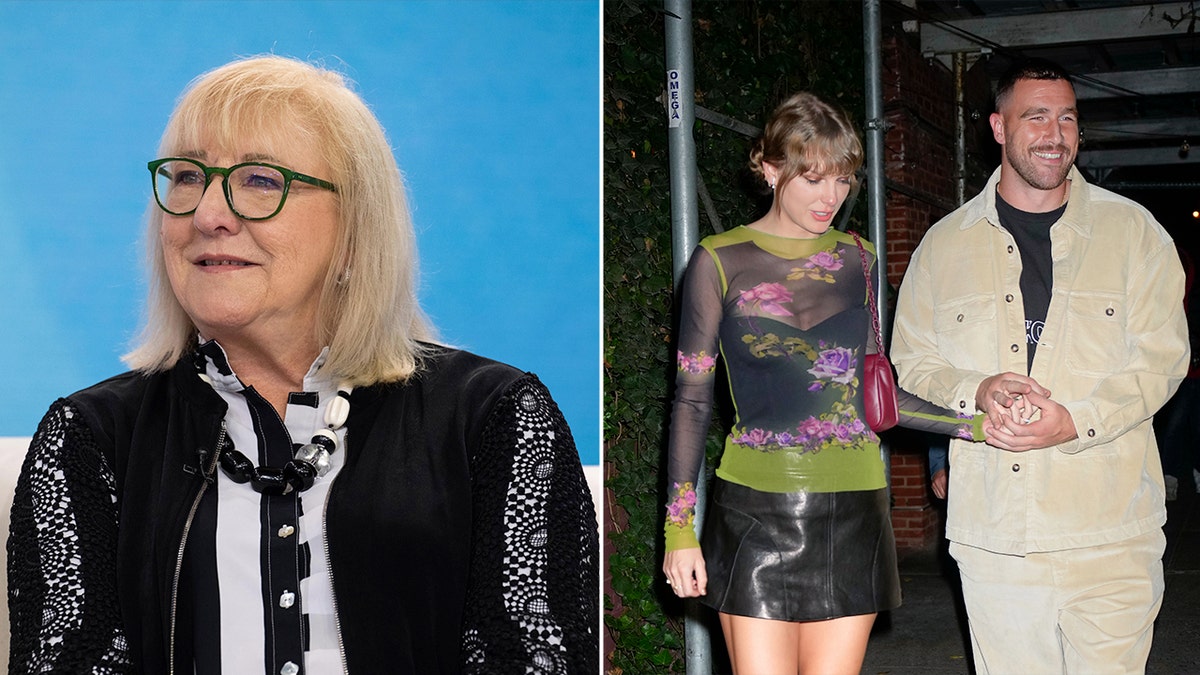 CLICK HERE TO SIGN UP FOR THE ENTERTAINMENT NEWSLETTER
Kelce reassured his mom that she handled the interview perfectly and even complimented his mom's glasses.
Now that the tight end and the pop star appear to be an official couple, with backstage kisses and hand in hand walks, Donna is more willing to comment on the relationship.
WATCH: TAYLOR SWIFT SPOTTED RUNNING TO AND KISSING TRAVIS KELCE AFTER CONCERT IN ARGENTINA
"I can tell you this," Donna told WSJ. Magazine. "He's happier than I've seen him in a long time…. God bless him, he shot for the stars!"
This is not the first awkward moment that has occurred between the Kelce and Swift families.
LIKE WHAT YOU'RE READING? CLICK HERE FOR MORE ENTERTAINMENT NEWS
Last week, Kelce spoke about his time in Argentina to see Swift perform on his "New Heights" podcast with his brother, Jason Kelce.
During the concert, she changed the lyrics to her song "Karma" to reference him, singing, "Karma is the guy on the Chiefs, coming straight home to me."
WATCH: TRAVIS KELCE BLUSHES AS TAYLOR SWIFT CHANGES LYRICS TO REFERENCE HIM
Kelce said, "Yeah no, I had no clue that — well, I might have had a little bit of a clue, but definitely when I heard it come out of her mouth, still shocked me… I was like oh… she really just said that?"
CLICK HERE TO GET THE FOX NEWS APP
"You were so shocked you left Scott [Swift] hanging. Scott's over here looking for a high-five," Jason joked, referencing a video that went viral of the two men reacting to the lyric change. In the video, Taylor's dad Scott can be seen trying to give Travis a celebratory high-five.
"Yeah, Mr. Swift, I apologize, big guy. Aw man, I missed that. I never miss a high-five, too. Big high-five guy! It's the most electric thing you can do at an event… So sorry," he reiterated. 
Fox News Digital's Caroline Thayer contributed to this report.