Every Thursday, News Corp Australia's editorial director of racing and wagering Matt Williams and senior racing writer Ben Dorries chat all things horse racing.
Benny could have been shark bait if Kovalica got rolled.
MW: Benny, you're alive! Kovalica and J-Mac saved you from the sharks. Thank God for that or I had a serious OH&S issue on my hands. Even though he was odds-on, you had plenty of punters against you. I told the beloved readers of this column four weeks ago that Kovalica was a superstar in the making. You never had a moment's worry!
BD: At least I saved myself some cash not buying budgy smugglers; fair to say they don't feature too prominently in the Dorries wardrobe. Plenty were querying whether I'd make good on my swimming pledge if Kovalica got rolled. I can only point to my performance in 2014 when I said I'd turn up to trackwork in a kilt if a certain horse I potted won. I got it wrong and it was extremely chilly downstairs when I donned the kilt. The issue this time is I would've run out of puff after 200m in Moreton Bay, been claimed by Jaws, or floated to Fiji.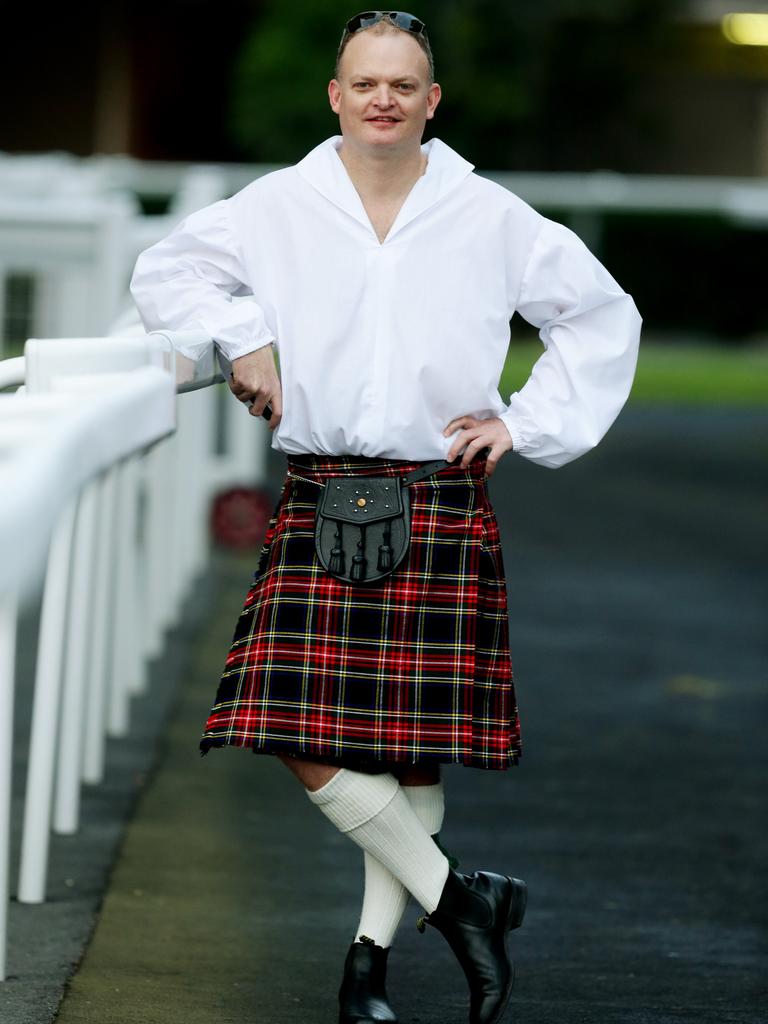 Benny in a kilt in 2014.
MW: To a few "experts" who've said Kovalica didn't beat much because Fame ran second — give me a break. The runners-up in both the NZ Derby and SA Derby were seven lengths in his wake. Seven lengths! The knockers have emerged because they've been asleep at the wheel with regard to how good Kovalica is. Plus, if those same "experts" delved deeper into Fame's form they would've seen he's got a second to Dunkel (SA Derby winner) and a third to Lindermann (Rosehill Guineas winner) to his name. Hardly a bush hack. Seven days earlier, Kovalica finished third in the Doomben Cup at his eighth start, beating home multiple Group 1 winners Zaaki and Duais. Dud form that, too! That was after a setback, three weeks between runs and being forced to settle a long way back after drawing gate 12 of 12. In the Derby, he cruised up on the corner in Winx-like fashion and put a gap on them. Guess what? Winx "didn't beat much" either in the 2015 Queensland Oaks and Kovalica's win was as visually impressive as hers. Kovalica can win this year's Cox Plate or Caulfield Cup and we'll get a lot of joy watching him in our Group 1 weight-for-age races over the next few years. He only debuted seven months ago. The sky's his limit. Rant over!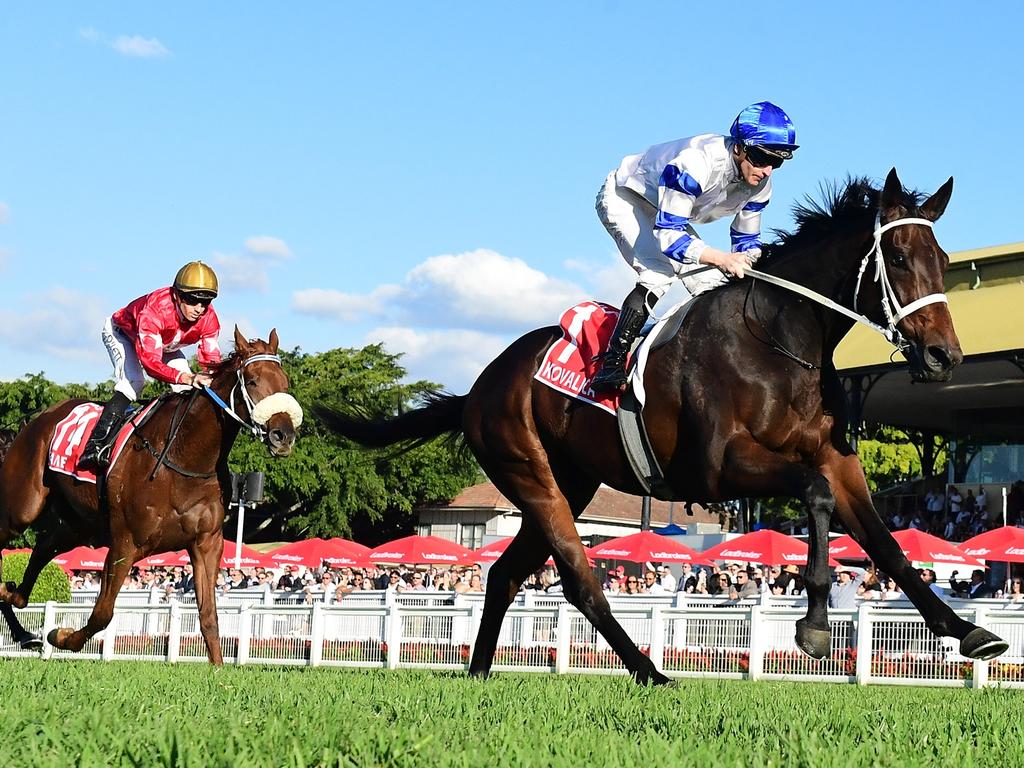 Kovalica romps home in the Queensland Derby.
BD: I reckon Kovalica had plenty of petrol tickets left and would've won by further if J-Mac hadn't twisted his neck turning around to see if anything was chasing him. Everyone should put this name down in their blackbooks — Fame. Peter Moody's gelding, coming off low-grade wins at Kyneton and Moe, ran enormous to come from last and finish second to Kovalica. He's a serious horse in the making. I hope this three-year-old sticks around for the $1.2m Q22 on Stradbroke Day. Regardless, Charleville's prodigal son Moody will have a hell of a lot of fun going forward.
MW: Damian Lane winning the Japanese Derby is one of the greatest achievements for an Aussie jockey abroad. D.Lane has to be right up with J-Mac as the best jockey in Australia and one of the best in the world. He's grossly underrated. We, the media, probably haven't given him the credit he deserves.
BD: Personally, I'd have J-Mac first and daylight second but well done to Lane and his remarkable achievement. I remember talking to Damian's Dad, Michael, a trainer and former jockey, in 2019. Michael told me that Damian ate pressure for breakfast. And that was because Damian started riding as a 15-year-old apprentice, riding for his father's big-betting stable in Bunbury, WA. Michael remembered how his boy was always as cool as a cucumber when family money was won or lost on his rides.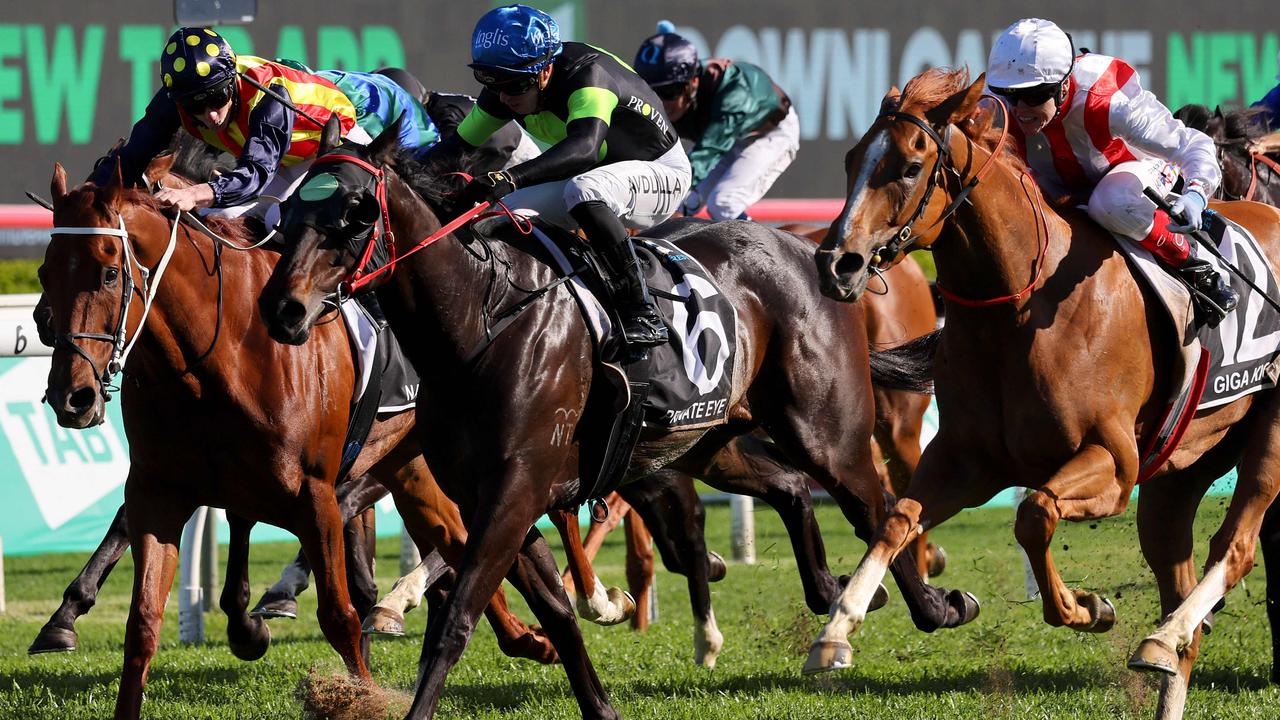 Giga Kick (right) wins the 2022 Everest at Royal Randwick.
MW: The Everest. $20 million. Wow. The obvious criticism from many is the field would be no different if it's worth $15m or $20m — and the extra prizemoney could be better spent elsewhere. It's a fair criticism but it's also a fair defence that making it the second richest thoroughbred race in the world will attract global headlines for NSW/Sydney racing and Australian racing on the whole. Forget the NSW vs Victoria crap for one minute. A $20m race is great for Australian racing. Full stop. End of story. Why do people have to bag anything that's been a success? Jealousy is the first word that comes to mind. Name me one person in the world who wouldn't want a runner in it if they had the chance.
BD: Don't disagree. It will be fascinating to watch prizemoney in all states over the next few years. Wagering turnover will be a hot topic with interest rates going up and cost of living pressures starting to bite.
MW: We gave the SA Derby a fair whack but I'm hardly enthused about the Group 1 Queensland Oaks on Saturday. There's a lot of horses making up the numbers. I don't mind a couple at double-figure odds. Super Chilled and Proscenium Arch both covered a lot of extra ground in The Roses but still finished off well. Proscenium Arch, in particular, covered 9m more than Fireburn — which is the equivalent of 3¾ lengths — but only got beaten 2¼ lengths. Yet she's $19 and Fireburn is $3.40.
BD: As electric as Fireburn's win in The Roses was, I think the prospect of a firm Eagle Farm track will see her ease in betting. It's a race where you can spec a few. Go back and look at The Roses and Yankee Hussel ($34) was bloody terrific. Tony Pike's Kiwi raider Cheval D'Or ($17) is worth a few shekels; crossing fingers she gets some luck from a wide gate. And agree with you about Proscenium Arch.
MW: Bring on the Stradbroke next week. It's going to be a cracker.
BD: The three-year-old factor has me excited. They've been winning just about everything and Hawaii Five Oh and Aft Cabin are real headliners plus Ciaron Maher and David Eustace will have a say with their own 3YOs, Ruthless Dame and Royal Merchant. Away from the young ones, Converge and Cardinal Gem have been flashing light runs plus you've got the emerging star, Think About It, at the top of the market.