1.     Acting Minister for Transport, Mr Chee Hong Tat, attended the Third International Civil Aviation Organization (ICAO) Conference on Aviation and Alternative Fuels (CAAF/3) held in Dubai, United Arab Emirates (UAE), on 20 – 21 November 2023, where he delivered a High-Level Statement on advancing the development and adoption of sustainable aviation fuels (SAF) through a feasible global framework that is pragmatic, collaborative and inclusive.
2.     The CAAF is one of ICAO's primary platforms for Member States, industry bodies and non-governmental organisations (NGOs) to discuss the decarbonisation of international aviation, particularly through the use of SAF. The third edition of the conference, CAAF/3, aims to review the 2050 ICAO Vision for SAF and define a global framework for aviation cleaner energy.
3.     In his statement, Mr Chee outlined the importance of a global framework that signals the aviation industry's commitment to decarbonisation, provides demand certainty to fuel producers and financing institutions, and mobilises innovation, investments and financing to scale up global SAF development. He said the global aviation sector should establish a quantified goal for SAF, but this should be done via a pragmatic and realistic approach. Singapore proposed adopting a range for the quantified goal, with a pragmatic and credible lower bound, and a realistic yet ambitious upper bound to reflect the collective aspirations of Member States, which ICAO and the international aviation community could adopt to spur SAF production and investments.  
4.     Mr Chee highlighted that the framework should be fuel, feedstock and technology neutral, and should adopt an approach that is backed by scientific evidence, recognising the Carbon Offsetting and Reduction Scheme for International Aviation (CORSIA) sustainability criteria as a single global standard for determining feedstock and fuel acceptability. Singapore is open to collaborate and partner with other States to accelerate the reduction of aviation carbon emissions. Singapore is also committed to actively supporting ICAO in international aviation sustainability and climate action for the sustainable growth of aviation.
5.     Mr Chee also participated in a Ministerial High-Level Panel on the importance of cleaner energy for the future of aviation. He stressed the importance of taking a balanced approach, promoting collaboration, focusing on action-oriented outcomes, and remaining inclusive so that no country is left behind in the transition.
6.     On the sidelines of CAAF/3, Mr Chee met with ICAO Council President Mr Salvatore Sciacchitano. Mr Chee and Mr Sciacchitano had a fruitful exchange on ways to advance the production and use of SAF in support of ICAO's long-term aspirational goal. Mr Chee also met with his counterparts from other nations, including Mr Viliame Gavoka, Fiji's Deputy Prime Minister and Minister for Tourism and Civil Aviation as well as the CAAF/3 Chairperson; Mr Suhail Bin Mohammed Al Mazrouei, UAE's Minister of Energy and Infrastructure; Mr Abdulla Bin Touq Al Marri, UAE's Minister of Economy and Chairman of the General Civil Aviation Authority; Mr Mohamed Ali Al Shorafa, Chairman of the Abu Dhabi Department of Municipalities and Transport; and Mr Anthony Browne, United Kingdom's Parliamentary Under Secretary of State in the Department for Transport.

Mr Chee Hong Tat, Acting Minister for Transport, and Mr Salvatore Sciacchitano, ICAO Council President, at CAAF/3.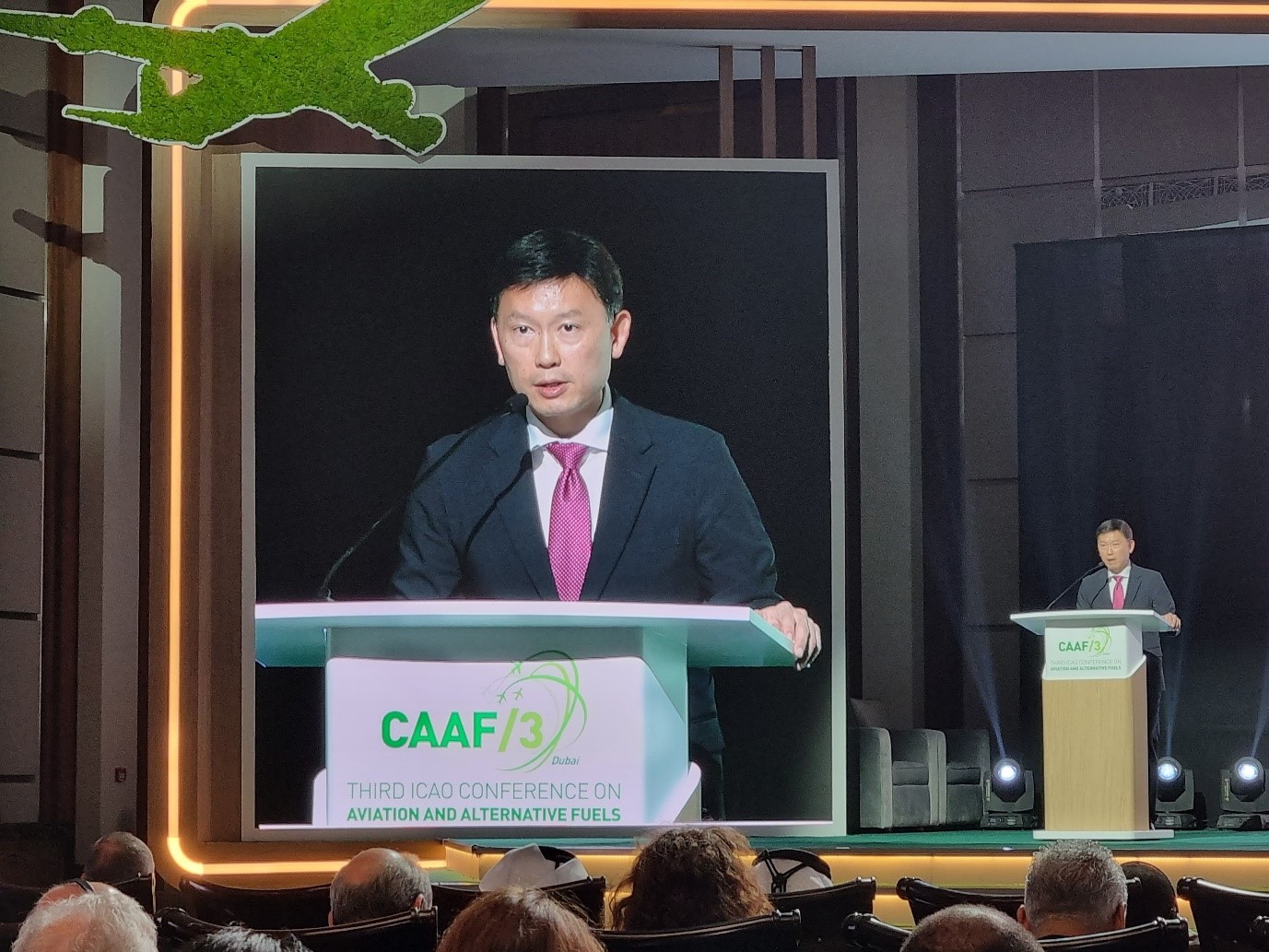 Mr Chee Hong Tat, Acting Minister for Transport, delivering his High-Level Statement at CAAF/3.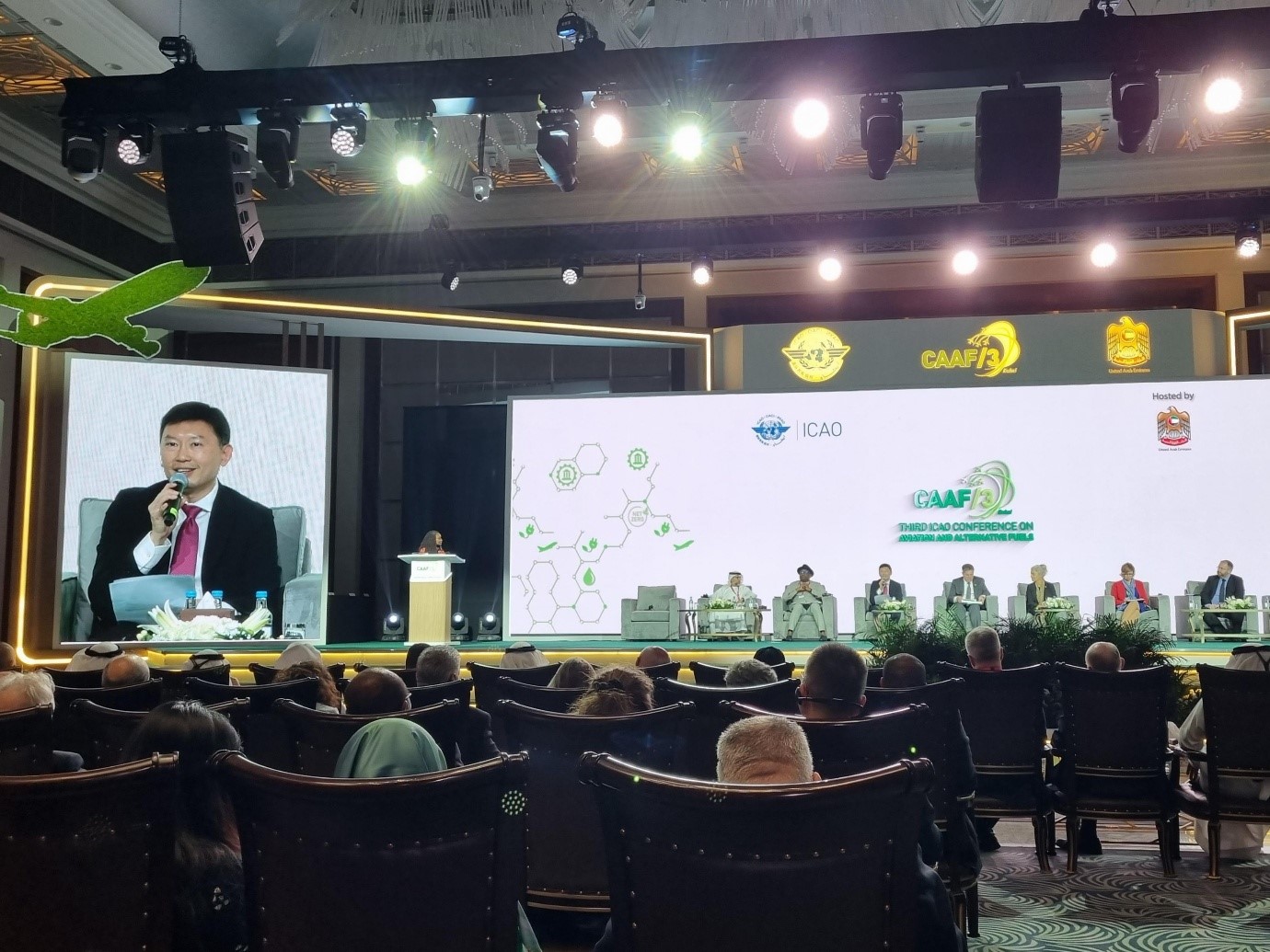 Mr Chee Hong Tat, Acting Minister for Transport, participating in the Ministerial High-Level Panel at CAAF/3.